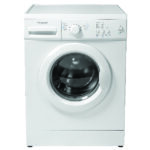 Westpoint Washer WMW-61013
$1,260.86
USD

:

$399.27

CAD

:

$0.00

GBP

:

£327.60
The Westpoint WMW61013 washer 6 Kgs capacity washer can handle a wide variety of loads. Instead of waiting around to load the next few batches of laundry. One can relax in the comfort of his or her home watching television or munching on a snack while their laundry is being done. Also,the display and electronic controls make life very simple with cycle selections that are clearly laid out for any user of the machine to understand.
6 Kgs
1000 RPM
Porthole opening angle : 180°C
Electronic front panel
Number of programs :8
Thermostat : COLD 40 – 60 – 90°C
Brand: Westpoint
Model Number: WMW 61013
Voltage/Cycle : 220 – 240V/50Hz
Water consumption : 49 Lts
Washing energy consumption : 0.76
Net dimensions [ mm ] : H 850 x W 595 x D 470
Water saving function
Energy saving function
Net weight : 50 Kgs
Energy Label : A+
Standard : CE
---
Only logged in customers who have purchased this product may leave a review.